Software Defined Networking
BARKAT CONSULTING INC: Mentored Deployment Partner and Flight School/Bootcamp approved Instructors for Cisco

Application Centric Infrastructure (ACI). Providing the architectural, implementation and project management skills to provide clients with an ACI solution.

Barkat Consulting has in last five years successfully architecture network designs for Data-Centers, Security, Mobility and Unified Communication implementing Cisco Best Practices for Enterprise customers within US and overseas.
SOFTWARE-DEFINE NETWORKING (SDN)
 Software-Defined Networking (SDN) is an approach network architecture that decouples the control and data planes, making the network control plane (network intelligence and policy making) to a directly programmable application called a controller.
SDN architecture purports to be dynamic, directly programmable, manageable, cost-effective, and adaptable, suitable for the high-bandwidth, dynamic nature and emerging technological trend abstracted from applications and network services.
The OpenFlow protocol is a foundational element for building SDN solutions. The SDN architecture is:
Directly programmable: Network control is directly programmable because it is decoupled from forwarding functions.
Agile: Abstracting control from forwarding lets administrators dynamically adjust network-wide traffic flow to meet changing needs.
Centrally managed: Network intelligence is (logically) centralized in software-based SDN controllers that maintain a global view of the network, which appears to applications and policy engines as a single, logical switch.
Programmatically configured: SDN lets network managers configure, manage, secure, and optimize network resources very quickly via dynamic, automated SDN programs, which they can write themselves because the programs do not depend on proprietary software
Open standards-based and vendor-neutral: When implemented through open standards, SDN simplifies network design and operation because instructions are provided by SDN controllers instead of multiple, vendor-specific devices and protocols.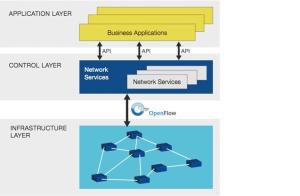 CISCO APPLICATION CENTRIC INFRASTRUCTURE (ACI)
Cisco's ACI: Go Beyond SDN to Address the Changing Landscape
Industry shifts are redefining IT at all levels. On-premise IT consumption models are shifting to cloud-based services. IT as a service (IaaS) is supplanted by applications as a service. Separate development and operations are moving toward integrated development and operations (DevOps). Box-centric management models are migrating to application-centric management.
Business agility requires application agility, so IT teams need to provision applications in hours instead of months. Resources need to scale up (or down) in minutes, not hours.
Traditional approaches take a trench operational view, with no common operational model between the application, network, security, and cloud teams. A common operational model delivers application agility, simplified operations, assured performance, and scale.
Cisco Solution: An Application-Centric Approach to Manage Infrastructure
Cisco Application Centric Infrastructure (ACI) is an innovative architecture that provides a common management framework for the network, application, security, and IT operations teams, to help make IT more agile while reducing application deployment time.
Cisco, with Insieme has designed and developed an open architecture from the ground up a complete technology ecosystem in seven key areas:
Orchestration, automation, and management
Configuration and compliance
Monitoring and diagnostics
Traffic flow and analysis
Security
Network services
Storage and virtualization
Cisco ACI delivers centralized application-driven policy automation and management of, and visibility into, both physical and virtual environments as a single system. It is optimized to support an "application anywhere" model, with complete freedom of application movement and placement. This novel approach empowers IT teams to offer cloud-based services to their customers directly, with the associated service-level agreements (SLAs) and performance requirements for the most demanding business applications.
Cisco ACI for Data Center
Cisco's ACI in the data center is an innovative & holistic architecture with centralized automation and policy-driven application profiles. ACI delivers software flexibility with the scalability of hardware performance, centralized application-driven policy automation, management, and visibility of physical and virtual networks. It is optimized for tomorrows emerging architectures as well, supporting an "application-anywhere" model with complete freedom of application movement and placement.
Cisco ACI for Enterprise Network
The enterprise module for the Application Policy Infrastructure Controller (APIC-EM) expands Cisco ACI capabilities to encompass all areas of the enterprise network. This includes the data center, WAN, access, and cloud.
Cisco ACI is the only industry offering to address security and policy challenges across all enterprise domains and the cloud. Cisco takes full advantage of the benefits of our hardware, software, and security portfolios to deliver advanced solutions across the widest range of business-enhancing use cases in the industry
Cisco ACI Fabric
The Cisco ACI fabric is composed of the Cisco Application Policy Infrastructure Controller (APIC) and the Cisco Nexus 9000 Series Leaf and Spine switches. As in any traditional Clos or bipartite graph design, the Leaf top-of-rack (ToR) switches attach only to the Spines, and never each other. The Spines attach only to Leaf switches, and possibly to a higher-level Spine if the network design is hierarchical. The Cisco APIC (and all other devices in the Data-Center) attach to the Leaf switches only.
Cisco ACI: Components
Cisco ACI embraces hardware, software, and application-specific integrated circuit (ASIC) elements as part of the overall architecture. The primary components of ACI will include a centralized fabric controller, the Cisco Application Policy Infrastructure Controller (Cisco APIC); ACI-ready networking switches (for example, the new Cisco Nexus 9000 Series Switches); and a rich set of ecosystem elements made possible by an open approach. Cisco ACI consists of:
Cisco ACI: Key Characteristics
Simplified automation by an application-driven policy model
Centralized visibility with real-time, application health monitoring
Open software flexibility for DevOps teams and ecosystem partner integration
Scalable performance and multi-tenancy in hardware
The future of networking with ACI is about providing a network that is deployed, monitored, and managed in a fashion that supports DevOps and rapid application change. ACI does so through the reduction of complexity and a common policy framework that can automate provisioning and managing of resources.